Travel & Accommodations
Haystack US Conference
We're excited to have you visit us in Charlottesville. Here's a short guide on visiting our city with information on conference venues, travel options, Charlottesville transportation, restaurants and things to do!
Conference Venue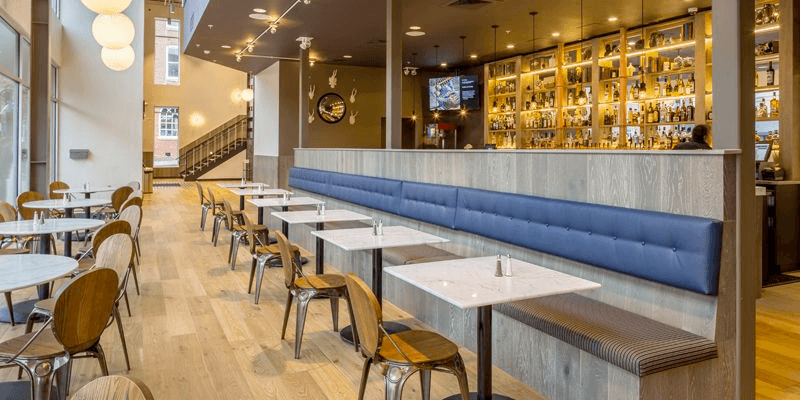 Main Conference Venue:
Violet Crown Charlottesville
200 West Main St
Charlottesville, VA 22902
---
Getting To / From Charlottesville
Airports and other options to get to/from the city are below. For international travellers we recommend flying into Dulles and then taking either a train from Manassas or hiring a car.
By Air
Charlottesville- Albemarle Airport aka "CHO" - http://www.gocho.com/
If you fly into CHO, you can get to Charlottesville downtown via Taxi/Uber or car rental
Direct flights from CHO to New York Laguardia, Chicago O'Hare, Charlotte-Douglas Airport, Atlanta, and Dulles
We recommend using CHO if you can take a direct flight to your destination, but would not recommend it as a start/end for complex or international connections. It is not uncommon for flights to be delayed/canceled and for the airport to have few backup options (as there are so few flights here). It is not uncommon for travelers to get frustrated and end up splitting a taxi to Dulles or Richmond (2 hrs / 1.5 hrs away)
Washington - Dulles International (IAD)
Closest major airport, about a 2 hour drive away.
Many, many direct flights around the US and World.
It's a larger airport, so be prepared to consider large airport security, baggage check, ticketing times when planning your travel
If you're arriving from outside the US as a non-US citizen, be aware that immigration can take anything from 30 minutes to 2 hours depending on how many flights have landed recently and how many staff are available
IAD ← → Charlottesville: One challenge with IAD is getting to/from Charlottesville. The number of options is growing:

Manassas Amtrak Station (the fastest option for taking a train to Charlottesville)

Take a taxi/Uber from IAD to the Manassas Amtrak Station (drivers don't always know where Manassas station is, you might need to show them on Google Maps!). It's a small station with some historic interest.
Be sure to pre-purchase a train ticket. There's a handful of trains that pass through Manassas and go to Charlottesville. They come down in the evening, NE Regional being the best option picking up in Manassas at ~5:30. Crescent picks up ~7 PM. Note that trains can be delayed, a 10-30 minute delay seems entirely normal.
Confirm time / tickets at http://amtrak.com

Metro -> Downtown DC -> Charlottesville (a much slower option)

A new Metro opened in November 2022 and this takes you to the centre of DC in around 70 minutes
Depending on the time of arrival of your flight, you will be able to catch a train or bus from Union Station to Charlottesville. It's not uncommon for our visitors to spend a night in DC if their flight arrives at IAD in the afternoon.

Rental Cars

You can rent a car at Dulles and drive to Charlottesville. Once you get away from the DC suburbs, the drive is fairly scenic. Without traffic, it's about a 2 hour drive but if you hit the rush hour coming from DC it could take 3.5 hours.

Ride Share

If you're driving to the event perhaps you can offer someone a lift, or perhaps you need a ride? Jump over to the #haystackconference channel in Relevance Slack to arrange this!
Baltimore/Washington International Airport (BWI)
Serves many international destinations, including British Airways flights from and to the UK
There is a shuttle bus that connects the airport with an Amtrak/MARC (MAryland Rail Commuter) train stop. It only takes 30-45 minutes from there to Washington DC Union station but trains run only one or two per hour (https://www.mta.maryland.gov/schedule/timetable/marc-penn - MARC train tickets can be purchased at the BWI train station. They are not valid on Amtrak trains, which need to be booked in advance).
For Washington Union Station to Charlottesville see Washington - Dulles International (IAD) above
By Train (Amtrak)
If traveling from the NE Corridor, including Washington DC Union Station, there are several Amtrak options that get you to the center of Charlottesville. The conference hotel is then just a 7-minute walk from the train station.
Be aware when traveling FROM Charlottesville to the NE that the Crescent train is notoriously late by several hours. It comes from New Orleans on track that's not dedicated to passenger rail, so gets delayed often by freight. The NE Regional is a more reliable option with fewer delays, and Charlottesville is often the first big stop where lots of people get on.
By Bus (Greyhound/Flixbus)
The Greyhound bus station is also centrally located in Charlottesville. There's a route from Baltimore - Charlottesville that we've used before. It's a good option that compliments the Amtrak for the Northeast/DC travel as it goes North in the evening and returns in the morning (Amtrak goes north in the AM, returns in the evening)
They Greyhound bus station in Charlottesville is a 2-minute walk to the conference hotel.
Many other routes available: https://locations.greyhound.com/bus-stations/us/virginia/charlottesville/bus-station-330319
There's a new Flixbus service. They have a Charlottesville - Richmond - DC - NYC route (only stops in those four places, so it fairly quick). It was cheap, clean, fast, and easy when we tried it.
---
Getting Around Charlottesville
Walking
Most places within the City of Charlottesville are walkable. The conference venue is located on the Downtown Mall which has a variety of restaurants, coffee shops, and nearby hotels.
Public Transportation Options
Free Trolley
The free trolley route visits the core city areas every 15 minutes. It's a great way to visit the University of Virginia, the Rotunda and Lawn is a national landmark.
https://www.charlottesville.org/departments-and-services/city-services/charlottesville-area-transit-cat/schedules-maps/free-trolley-08-2018
University of Virginia Bus System
Free system for getting around University and neighborhoods adjacent to the University (the western half of the core city area). Pretty reliable, though does not have a route to OSC's offices
Technically you need a UVA IS or pass from CAT (see below) but we have never seen them check
CAT Bus System
Great public transportation via the CAT bus goes around the city. (Not free)
Purchase a pass at the downtown transit center (near downtown mall) or a 0.75 flat fare on the bus per trip (they accept quarters or dollar bills - no change). Fare info: https://www.charlottesville.org/departments-and-services/city-services/charlottesville-area-transit-cat/fares
Routes are 30 min in morning and evening during the week - usually an hour otherwise.
Get the CAT app to confirm bus ETA to any stop. Sometimes the half hour route can have alterations and the app will tell you this (you can see buses on any route and the "notifications" will inform you of any route changes
Scooter / Bike rentals
Veo
offers short term e-scooter and e-bike renatal. This requires a smartphone app and account. Longer term bike rentals available at
Blue Ridge Cyclery
.
Rideshare
Uber / Lyft are available in Charlottesville City, driver volume can vary. Traditional taxi services are available via
YellowCab
.
Car Rental
You can of course rent a car and get around most places. Be aware in the city center, parking can be a bit of a burden. Downtown Parking:
Market St & Water St garages - these are the main garages for downtown mall area
Your hotel's parking - be sure to review whether your hotel has a garage and what parking fees might apply
---
Places to Eat
Downtown Mall
It's hard to go wrong on the downtown mall, even we haven't explored all the options. But here's some of our favorites:
Coffee Shops:
Mudhouse - award winning coffee shop & espresso
Millijoe - off the mall (halfway to OSC's office) coffee shop that is known for serving waffles and other treats
Fast Casual:
Citizen Bowl - bowl/salad style restaurant with healthy meals
Blue Ridge Country Store - locals love the salad bar here. Especially the spicy croutons!
Sit-Down Table Service
The Nook - diner on the downtown mall
The Whiskey Jar - if you want exposure to southern food with a very deep whiskey menu (bourbon, scotch, irish, and everything in between)
Citizen Burger Bar - eatery with hamburgers and craft beers in a brick-walled space with a patio
Miller's Downtown - old-school bar with a patio on the downtown mall with Southern pub fare & live music
Revolutionary Soup - always several options for different tasty soups here
Now and Zen - go to Japanese restaurant for suishi and other dishes in a small bustling space.
Tonic - courtyard patio for a lovely time outside eating and/or drinking
Fancier Sit-Down Table Service
Ten - fancy sushi restaurant
C&O - We like their steak chinois and the sticky toffee pudding. Check out the basement bar
Fleurie - french dining, known for costing an arm and a leg :)
Elsewhere
Riverside Lunch - best burger spot with a heavy dose of racing Americana.
Lampo - Neapolitan pizza done to perfection.
La Michocana - best tacos in town over on Cherry Ave.
La Flor Michocana - best popsicles in town over on High Street.
The Local - top shelf southern comfort food over in trendy Belmont.
Marie Bette - amazing bakery. Two renowned pastry chefs moved to Charlottesville to start this place from NYC, and it's some of the best bakery items we've had. Also serves espresso drinks about ~0.25 miles from OSC's offices.
Shenandoah Joe - a nice coffee shop a bit more easy-going than Mudhouse. We recommend ordering a 'traditional'
Ace Biscuit & Barbecue - award winning casual bbq place, 0.25 miles from OSC's office. Hard to go wrong with any of the food here, be prepared to be 'meat drunk' afterwords
Public Fish & Oyster - want something nice but a bit lighter? This restaurant offers a variety of fresh seafood options to the west of the downtown mall down main street
Charlottesville takes its food very seriously,
The Charlottesville 29
is a yearly ranking of the best food in and around town. Lots of the restaurants are listed above but lots are not. If you are into good eating you should definately consider making some trips while in town.
---
Things To Do in Charlottesville Area
If you have extra time in the area, there's a lot to do and explore! Here's some of our favorite things to do:
Take a Hike!
There's a lot of hiking in the Blue Ridge Mountains. One of the most accessible and pretty hikes is to go to the top of Humpback Rocks. It's located on the Blue Ridge Parkway a few miles from where Interstate 64 intersects the Parkway, a few miles south on the Parkway:
https://www.hikingupward.com/gwnf/humpbackrocks/
Shenendoah National Park, the most visited National Park in America, is 30 minutes outside of town. The park is home to Skyline Drive a famous winding road that traces along the Applaichain Trail, a famous hike from Maine to Georgia. If you have a car and love scenic mountain views or preserved wilderness, this is a steller way to spend a couple of hours and see the beauty of Virginia in the Spring. The park is covered with hikes to mountain tops and waterfalls if you want to get out of the car too!
History
Monticello is a fascinating place to visit just about any time of the year and there's a 2.5 mile boarded walking trail that runs from Monticello down to the highway...but bear in mind there's not really a safe way to walk from the end of this trail to/from Charlottesville.
https://www.monticello.org/
Visit UVA
The University of Virginia Grounds, especially the Rotunda and Central lawns offer historic architecture and various events. Nice place to just walk around and enjoy the architecture and atmosphere.
Wineries
Taking a drive around the countryside to various wineries can be fun and very beautiful on a nice day. Of course be sure to be safe!
Safest Option, take a tour
https://www.Charlottesvillehopontours.com/
Nice Wineries: